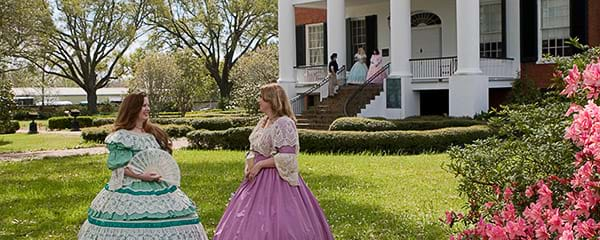 Memphis to New Orleans — An American Christmas 2019 (American Queen)
Starting at
$1,899

Destinations & Sightseeing

Itinerary and Meals

Accomodations
---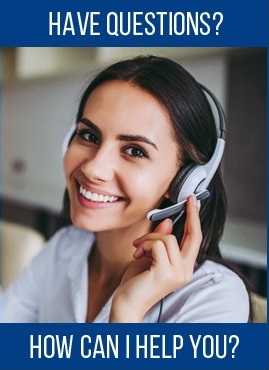 800.528.9300
JEWELS OF THE LOWER MISSISSIPPI - Explore the land of bawdy blues and Southern belles. This journey showcases the diversity and drama of the Lower Mississippi River. From Memphis to New Orleans, the river rolls slowly and expansively, smooth as a southern drawl. The bayous and woodlands along the shore create dramatic landscapes that are virtually unchanged since the days of the French fur traders. Gracious towns with palatial mansions and tree-lined streets abound. History is everywhere - in silent Civil War cemeteries and virtually everywhere you turn in Memphis, best known for jazz, barbecue, and of course The King of Rock and Roll and his home at Graceland.

Theme:
• Antebellum South*

Click for larger view.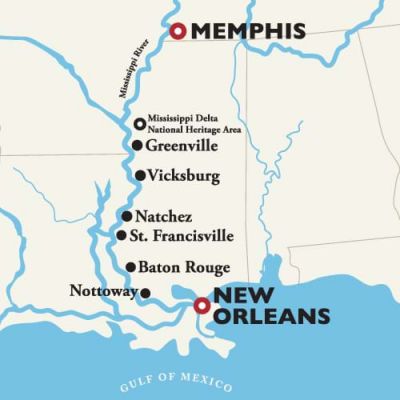 Destination & Sightseeing
Your Cruise Fare Includes:

Complimentary Hop-On Hop-Off shore excursions in each port of call
Complimentary hotel stay the night before your voyage – includes breakfast, taxes, porterage and transfers to the vessel
All onboard meals, including both fine dining and casual cuisine
24-Hour Room Service
Complimentary wine and beer with dinner
Complimentary cappuccino, espresso, specialty coffees, tea, bottled water and soft drinks throughout your voyage
Gracious service from a friendly, all-American staff

Acclaimed entertainment worthy of Broadway
Our own dedicated fleet of deluxe motorcoaches


Available for Purchase: Additional Pre-voyage Hotel Night
Available for Purchase: Optional Post-voyage Hotel Night


Terms and Conditions
One included pre-voyage hotel night is provided as part of the voyage fare. Additional pre-voyage hotel nights may be purchased for an additional charge. Guests are required to present a credit card upon hotel check-in to cover their incidental charges. Post-voyage hotel nights are not included in the voyage fare and may be purchased for an additional charge. A maximum of three pre-voyage and three post-voyage hotel nights are allowed for any booking. In lieu of an included pre-voyage hotel night on any voyage, a $50 per person onboard credit is available upon request and dependent upon voyage date. On a back-to-back voyage, two included hotel nights or a combination of one included hotel night plus a $50 per person onboard credit will be granted in lieu of taking a second included hotel night. A hotel credit will not be offered if a hotel is unable to accommodate additional hotel nights. Additional room night availability is based on the AQSC standard annual rate and is not guaranteed. The AQSC pre-voyage hotel may offer a direct promotional rate throughout the year that is lower than the AQSC standard annual rate.

ITINERARY
Day 1 - Hotel Stay - Memphis, TN
Enjoy your complimentary stay at the Sheraton Memphis Downtown Hotel. The evening is yours to get self-acquainted with this citys famed eateries, unique shops and lively entertainment. Our Hospitality Desk will be located in the hotel for your convenience between 2:00 p.m. and 7:00 p.m. It is here that our friendly staff can assist with everything from general questions about your upcoming voyage to reserving Premium Shore Excursions. An American Queen Steamboat Company representative, as well as a local representative, will be readily available to provide you with dining, entertainment, and sight-seeing suggestions so that you may maximize your time in Memphis.
Today is the day you have been waiting for! Prepare to embark on an unforgettable journey down America's largest and most historical river. If you haven't gotten your full dose of Memphis yet, visit the AQSC Hospitality Desk (Open at 8:30 AM!) for ideas about how to spend your day. The official Voyage Check-In will be open from 9:00 AM to 12:00 PM. During this fast and easy procedure, our representatives will arrange your transfer to the vessel and answer any questions you might have. The process is simple and will have you back to exploring in no time, and, if you think of any more questions, the Hospitality Desk will be at your service until 3:00 PM, when the complimentary boat transfers will begin.  It's time to start your voyage and begin a luxurious voyage down the Mississippi River, where memories will be made that will last a lifetime!
Long before it became a leading gaming destination, Tunica played a pivotal role in the history of the South. Hop-On, Hop-Off Tour: Hop on our deluxe steamcoaches and begin your tour of the South's Casino Capital! There's no shortage of fun in this Mississippi town. Tunica offers casinos, history, great food and fun – all within its quant boarders. The tour starts with a stop at the Tunica RiverPark. Located on the banks of the Mighty Mississippi, the Tunica RiverPark is a magnificent combination of modern architecture and nature's splendor. Step up to the observation deck to enjoy spectacular river views, enjoy the interactive history displays at the Mississippi River Museum, or take a walk through the eco trail, winding through nearly two miles of beautiful wetland forest. Experience the unspoiled timber, native creatures and Mississippi plant life, as you unwind and become one with nature. Your tour continues with a stop at the Tunica Museum to delve into America's diverse history. The exhibits range from Native American prehistory through European exploration, to military and commercial advancements from the 19th and 20th centuries. At the Tunica Casino District, go all in at one of several of the high rollers' casinos, or enjoy a five-star lunch at a casino restaurant. Discover the world-class gaming action and non-stop fun in this southern destination.
Relax on deck with a copy of Huckleberry Finn or another imaginative selection borrowed from our revered Mark Twain Gallery, enjoy some quiet time in the Ladies Tea Parlor, or recruit your fellow guests for an exciting board game in our Gentlemens Card Room. For a remarkable one-of-a-kind experience, take a guided tour of the American Queens Engine Room to explore the inner workings of our classic, steam-powered vessel. There is always plenty to do between dawn and dusk on the river! 
Vicksburg perfectly blends Southern culture and heritage with exciting modern attractions. Described as the key to the South by President Abraham Lincoln, this Southern town carries a history unlike any other Civil War city. Vicksburg was founded in 1811 and grew as a vital river port city. It was a major component to the Civil War and carries much of the history within the town. Today, Vicksburg is a popular spot for tourists to learn about the battles of the city, taste the cuisine, visit the many museums and pick out the perfect souvenir. 
This charming river town was founded in 1716, making it the oldest city on the Mississippi. The city is known for its elegance, hospitality and impressive preservation of history – found on every street corner. Enjoy the unique shops, restaurants, museums and historical homes, all of which contribute to Hugh Bayless' book "The 100 Best Towns in America." 
Day 7 - St. Francisville, LA
Established in 1809, St. Francisville is the oldest town in the Florida Parishes. Below where St. Francisville is located currently, was a settlement called Bayou Sara in the 1790's. When this settlement was destroyed by flooding and fires, many of the structures and artifacts were hauled up the bluff into St. Francisville where they are still standing. The town is referred to as "two miles long and two yards wide," but that definitely doesn't mean they have nothing to offer! With over 140 buildings on the National Register, beautiful plantation homes nestled in the rolling countryside and bustling Main Street shops, this quaint town situated on the bluffs of the Mississippi River has a style all its own. 
Day 8 - Nottoway Plantation, LA
Nottoway is the South's largest, most glorious remaining antebellum mansion, with a rich history dating back to 1859. In a fabulous location along the Great River Road, this White Castle of the South transports visitors back to an era of glory and grandeur. Set among a natural backdrop of vibrant gardens and 200-year-old oak trees, the mansion boasts three floors and 64 rooms, and flaunts an incredible 22 white square columns. The most popular room among guests is the White Ballroom, which is painted entirely in white with elaborate gold décor throughout. Rooms are trimmed in custom plaster frieze made from Spanish moss, clay, plaster and mud, and are all original to the house. And as if that weren't enough, this immaculate mansion was constructed with 365 openings – one for each day of the year. Nottoway Plantation captivates all with a brilliant blend of true Southern hospitality, history and mystery. 
Thank you for cruising with us! We hope that you had a memorable experience and look forward to welcoming you aboard in the future. Enjoy New Orleans at your leisure or consider a Post-Cruise Premium Shore Excursion with airport transfer.